Below you will find a collection of questions and answers about oneQ. Is the answer to your question not listed? Feel free to send an email to info@one-q.com and we will be happy to help you.
What is oneQ?
oneQ is a Dutch design brand for outdoor cooking products and specialized in built-in barbecues.

Where does oneQ come from?
The Netherlands.

How can you use oneQ?
All oneQ products can be build into any kitchen counter or table or can be used with connectable square modules (Legs) to create a tailor made outdoor kitchen.
How do you assemble a oneQ?
The oneQ Legs can be assembled in about 5 minutes, without the use of any tools. All functions are fully assembled in the box and can be used right away. Quite honestly, there is one exception (the Roasting Hood) where you need to screw the handle to the hood. A small video about how to assemble a oneQ Leg can be watched here.

What do you need to build in oneQ?
The only thing you need is a square opening of 41x41cm and a Socket Adaptor. You can place the oneQ cutting board (Table or Bamboo), wine cooler (Ice) or sink with faucet (Wet) directly in the Socket Adaptor.

To use the oneQ gas barbecue (Flame) or charcoal barbecue (Glow), you also need to place a Socket in the Socket Adaptor. For further details, please download the manual.
Is a Socket really necessary?
Only for the Flame and the Glow (to hold the oil drip cup and create an air buffer for safety).

Is a Socket Adaptor really necessary?
No. It is only necessary if you use a simple square opening in the cooking surface. If you create a recessed groove in the opening, you do not need a Socket Adaptor. Also see the oneQ Built-In Manual.

Can you change the modules after you have built them in?
Yes. The modules hang loose in the recess, so can easily be taken out and replaced by another module.

What is a oneQ Flame?
A powerful 8kW gas barbecue with a 40x40cm stainless steel grill surface. The 2 burners have a patented design, resulting in great power, no cold spots on the grill surface and zero CO-emission.
What is a oneQ Wok Burner?
A powerful 6.5kW Wok Burner -or Side Burner if you like- to further complete your outdoor kitchen. It can be used with regular pans for sauces or boiling pasta/potatoes and you can also use it as a genuine wok to stir fry or deep fry any vegetables, meat and fish. The Wok Burner comes with a oneQ Close to protect it when not in use.
What is a oneQ Glow?
A charcoal barbecue with a 40x40cm stainless steel grill surface.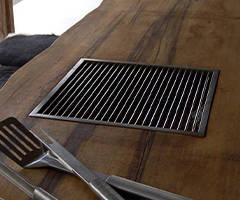 Is building in a oneQ barbecue safe?
Yes, given that the guidelines and instructions from the manual are being followed. Besides the mandatory Socket, the use of the Socket Adaptor is highly recommended for extra protection.

What is a oneQ Table?
A professional polyethylene cutting board with juice rim.

What is a oneQ Bamboo?
A bamboo cutting board with juice rim. We recommend to store the Bamboo indoors.

What is a oneQ Ice?
A round stainless steel bowl that can be used as a wine cooler or salad bowl.

What is a oneQ Wet?
A round stainless steel sink with a plug and a faucet. The faucet can easily be connected to your garden hose with a G1/2" gardena connection and the drain has a 1.5"connection.

Which accessories are available?
Roasting Hood: Can be secured to the Socket Adaptor Plus (which you use instead of the Socket Adaptor). It can be opened and closed with a hinge. It has a temp gauge in the glass middle part of the hood.
Topcombi: Combination of windshield, warming rack and lid. The Topcombi fits on top of the grill.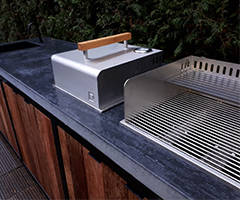 Plate: Teppanyaki plate or plancha that can be used on the Flame instead of the included grill top. Do not use the Plate on a higher position than 2 and do not put the Plate on a Glow.
Kebab: Six skewers and a holder to place on the grill of your Flame or Glow.
Shield: Windshield that fits on the grill top.
Hot: Warming rack that fits on the grill top to keep your grilled food or a sauce pan warm.
Tame: The Tame can be put on the flame tamers under your grill to create indirect heat for perfect slow cooking.
Dome: The Dome enables you to add a small Kamado Grill (eg Green Egg, Grill Dome, Monolith) in your oneQ outdoor kitchen.
Lift: With the Lift you can take off the grill to refill charcoal or replace it with the Plate without burning your hands or get them dirty.
Close: This lid can be used to protect and cover all oneQ functions when not in use.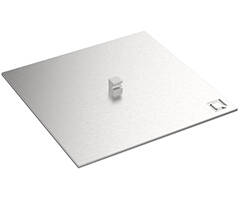 Front: Can be hung on any side of the Legs to cover the open space under the Legs.
Hide: Three-sided piece that can be placed under the legs to hide the gas bottle.
Box: Just hang the Box on any side of the Legs and use it as extra storage space for your herbs or barbecue tools.
Connect: To create extra work or storage space, you can simply hang the Connect in between 2 Legs.
Shelf: To create extra shelf space under the Legs, you replace the cross at the bottom of the Legs by the first shelf and put the second shelf on top of the 4 included support poles.
Gas hose & Regulator: The 60cm gas hose has the right connection for the oneQ Flame gas valve (1/4") and has a pressure regulator (product is not included with Flame).
How do I clean and maintain my oneQ products?
We recommend cleaning the grill, plate and burner after each use. Check and clean all areas where oil, grease or food residue may accumulate, then you keep all parts in optimal condition.
Only clean the parts when they are cooled down appropriately. Some cleaners produce unhealthy fumes or ignite even if they are used on a hot surface. Make sure the barbecue is not operating during cleaning.

Inox Parts
All inox parts of your oneQ outdoor kitchen are made of high quality stainless steel. It is important to remove all foil from the inox before use.
The inox parts of your oneQ can be cleaned with warm water and mild detergents. Do not use abrasive pads or abrasive cleaners as this will damage the product irreparably!
For extra maintenance and a shiny product, you can treat the inox with a special inox cleaner.

Black Parts
All black parts of your oneQ are made from high quality steel with a fine structure powder coating. They can be cleaned with warm water and mild detergents. Do not use abrasive pads or abrasive cleaners as this will damage the product irreparably!

Use a fluff-free cloth to prevent scraps of cloth sticking to the rough surface.

Wooden Parts
Clean only with lemon juice and a dry cloth after removing the loose dirt. Treat the wood regularly with oil and always treat the wood with oil after cleaning.

Do not leave wooden parts outside! Keep the Bamboo at a dry place after usage to protect it from moisture and the outdoor environment.

What do do when the flames of my gas grill are yellow in stead of blue?
Yellow flames normally mean that the burner is dirty (with grease mostly). If it is just fat, it is normally enough to leave the burners on for 15 minutes to burn the fat. If it is all stuck and flame holes are closed, you will need to pierce the holes with a needle or something.
If this does not help, or the burner is clean, the air inlet of the burner might be blocked. The air inlet is the steel part around the injector (see picture below). Air flows in from the bottom opening. You need to check if that opening is blocked somehow. Sometimes it is just a spider web or something. Just take out the Flame, turn it around and check the openings.

The ignition of my oneQ Flame does not work
Possible causes:
empty battery
wrongfully installed battery (upside down)
one of the little plugs that connect the ignitor are loose and need to be fixed
grease between the ignitor and the burner tube and it needs cleaning
the ignitor is bent a bit and too far from the burnertube and must be bend towards the burner a bit:
If all of the above does not work, ​the ignitor is broken and then off course we will change it for you. Contact us at info@one-q.com